Regular price
$128.00 USD
Sale price
$64.00 USD
Unit price
per
Sale
Sold out
BLACK FRIDAY OFFER - 
 (ENDS ON 30th November, LIMITED STOCK) 50% OFF
Carboncans Light TWS Earbuds launched in June 2023 ! Our incredible collection of True Wireless Earbuds will feature 'Vinyl X Sound' with Bass enhancement. Combining the true sound of vinyl quality with ultra punchy bass frequency. 
With touch control and both Active Noise cancelling and Environmental Noise Cancelling (via 4 microphones) Carboncans Light TWS Earbuds will be the new benchmark for portable audio.
Including IPX 5 water resistance with super comfy ergonomic ear tips, charge case and charge cable.
Battery Life:
Playing time: 20 hrs (4 x Powerbox Recharge)
Charging time: 1 hr
Standby time: 7-10 days
Materials

PP Recyclayble plastic with carbon filler. Lithium Battery.
Shipping & Returns

Free shipping and 30 days return policy.
Dimensions

15mm super driver, Charge Case = W:58mm, H: 53mm, D:20mm.
Care Instructions

• DO NOT USE THE EARBUDS AT HIGH VOLUME OR FOR PROLONGED PERIODS OF TIME.
EXCESSIVE EXPOSURE TO NOISE OVER 70 DECIBELS* CAN PERMANENTLY DAMAGE HEARING
(We recommend using earbuds for a maximum of 20 minutes at half volume).

• FIRE RISK: DO NOT LEAVE THE CHARGE UNIT UNATTENDED OR PERMANENTLY ON CHARGE.
ONLY USE A CERTIFIED CHARGER WITH THE USB CABLE AND NEVER CHARGE NEAR ANY
SOURCE OF WATER OR OUTSIDE.

• NEVER USE THE PRODUCT WHEN CYCLING, DRIVING, CROSSING ROADS AS A PEDESTRIAN,
OPERATING HEAVY EQUIPMENT OR IN ANY ENVIRONMENT WHERE ALERTNESS IS REQUIRED.

• EARBUDS SHOULD NOT BE USED BY CHILDREN (UNDER 18) AND ARE NOT A TOY

• EARBUDS SHOULD NOT BE USED BY ANYONE WITH A PREVIOUS HISTORY OF HEARING
LOSS/DAMAGE OR THOSE WEARING ANY MEDICAL DEVICES WHICH COULD BE IMPACTED BY
ELECTROMAGNETIC FIELDS OR WIRELESS SIGNALS, SUCH AS PACEMAKERS.

On Wireless communications
• Wireless technology operates within a range of about 10 m (30 feet). The maximum communication distance may vary depending on
the presence of obstacles (people, metal objects, walls, etc.) or the electromagnetic environment.
• Microwaves emitting from a Wireless device may affect the operation of electronic medical devices. Turn off this unit and other wireless
devices in the following locations, as it may cause an accident: in hospitals, near priority seating in trains, locations where inflammable gas is
present, near automatic doors, or near fire alarms.
• This product emits radio waves when used in wireless mode. When used in wireless mode on an airplane, follow flight crew directions
regarding permissible use of products in wireless mode.
• The audio playback on this unit may be delayed from that on the transmitting device, due to the characteristics of wireless technology.
As a result, the sound may not be in sync with the image when viewing movies or playing games.
• The unit supports security functions that comply with the wireless standard as a means of ensuring security during communication
using wireless technology. However, depending on the configured settings and other factors, this security may not be sufficient. Be careful
when communicating using wireless technology.
• Angle and Curve Ltd. shall assume no responsibility for any damages or loss resulting from information leaks that occur when using
wireless communications.
• Connection with all wireless devices cannot be guaranteed.
o Wireless devices connected with the unit must comply with the wireless standard
o Even when a connected device complies with the wireless standard, there may be cases where the characteristics or specifications of
the wireless device make it unable to connect, or result in different control methods, display, or operation.
o When using the unit to perform hands-free talking on the phone, noise may occur depending on the connected device or the
communication environment.
• Depending on the device to be connected, it may require some time to start communications.
• The headset does not support multipoint connection.
If the headset supports the multipoint function, the headset can connect to a music playback device (A2DP profile etc.) and a
communication device (HFP or HSP profile, smartphone, etc.) at the same time, and you can listen to music while waiting for an incoming
call or making a call.

Notes on wearing the product:
• After use, remove the headphones slowly as the earbuds achieve a tight seal in the ears, forcibly pressing them in or quickly pulling them
out can result in eardrum damage. The supplied silicone earbuds provide a snug fit to effectively block out ambient noise. Note prolonged use
of snug-fitting earbuds may strain your ears. If you experience discomfort, discontinue use. Do not subject the silicone portion of the earbuds
to pressure over long periods, as it may cause deformation. The silicone materials used in the earbuds deteriorate with long-term use and
storage. Replace the earbuds if the deterioration results in reduced performance. If you experience discomfort while using the unit, stop using
it immediately.
• Static electricity accumulated in the body may cause mild tingling in your ears. To reduce the effect, wear clothes made from natural
materials, which suppress the generation of static electricity. Do not subject the unit to excessive shock.
• The touch sensor may not operate properly if you apply stickers or other adhesive items to the touch sensor control panel.
• The wireless function may not work with a mobile phone, depending on the signal conditions and the surrounding environment.
• If the earbuds or charge unit become dirty, remove them from the unit and gently clean them with a microfibre cloth (never use water
or cleaning agent).
• The unit is not waterproof. If water or foreign objects enter the unit, it may result in fire or electric shock. If water or a foreign object enters
the unit, stop use immediately In particular, be careful in the following cases. When using the unit around a sink. When using the unit in the
rain or snow, or in humid locations. When using the unit while you are sweaty. If you touch the unit with wet hands or put the unit in the
pocket of a damp article of clothing, the unit may get wet.
Share
View full details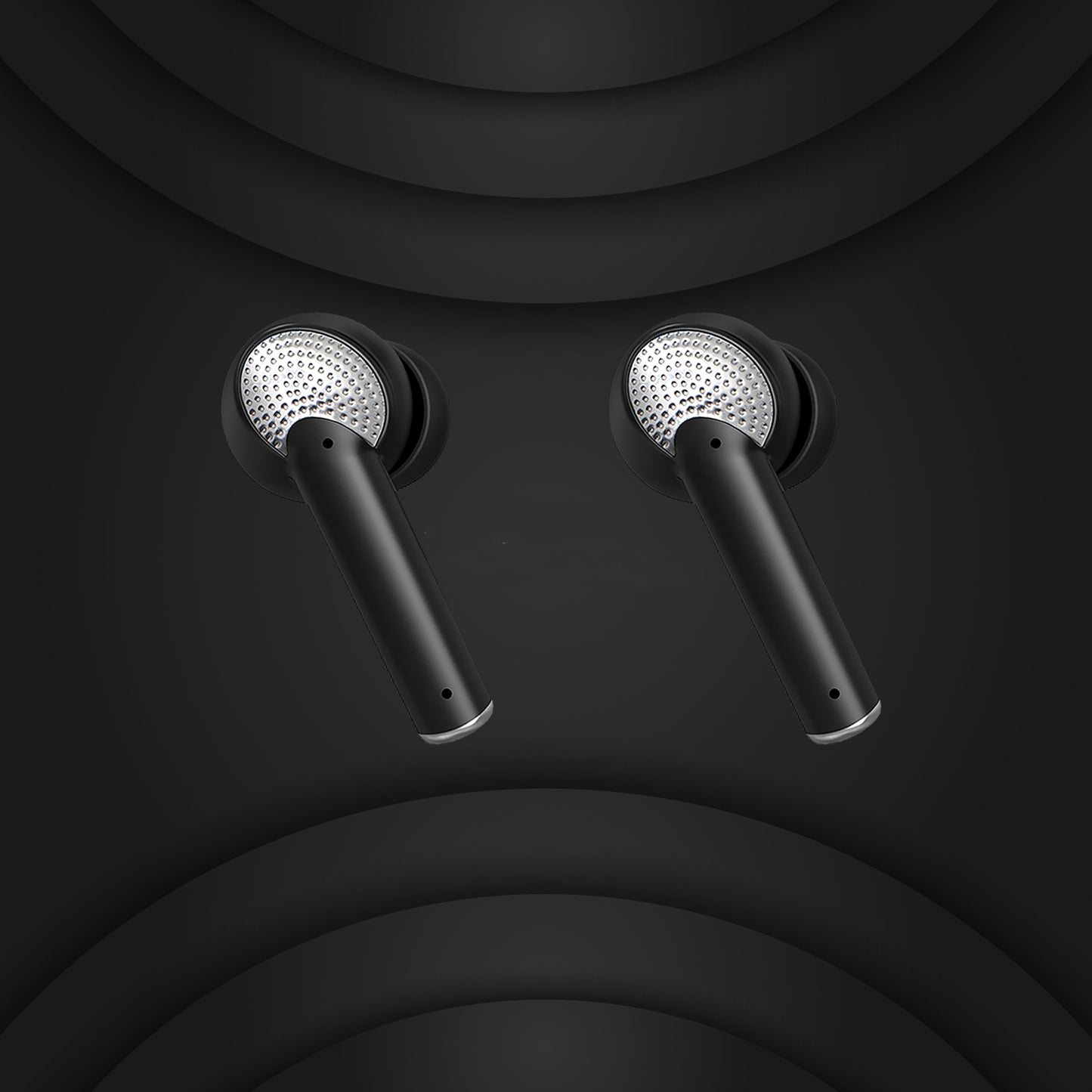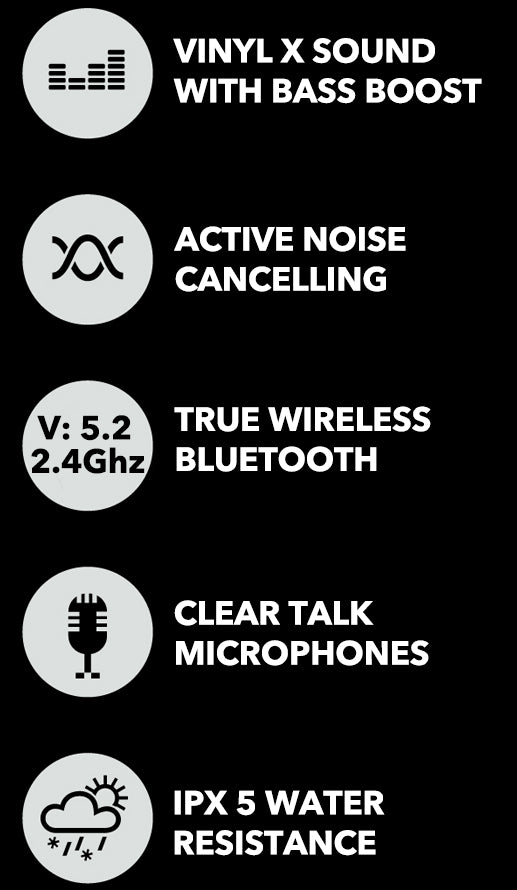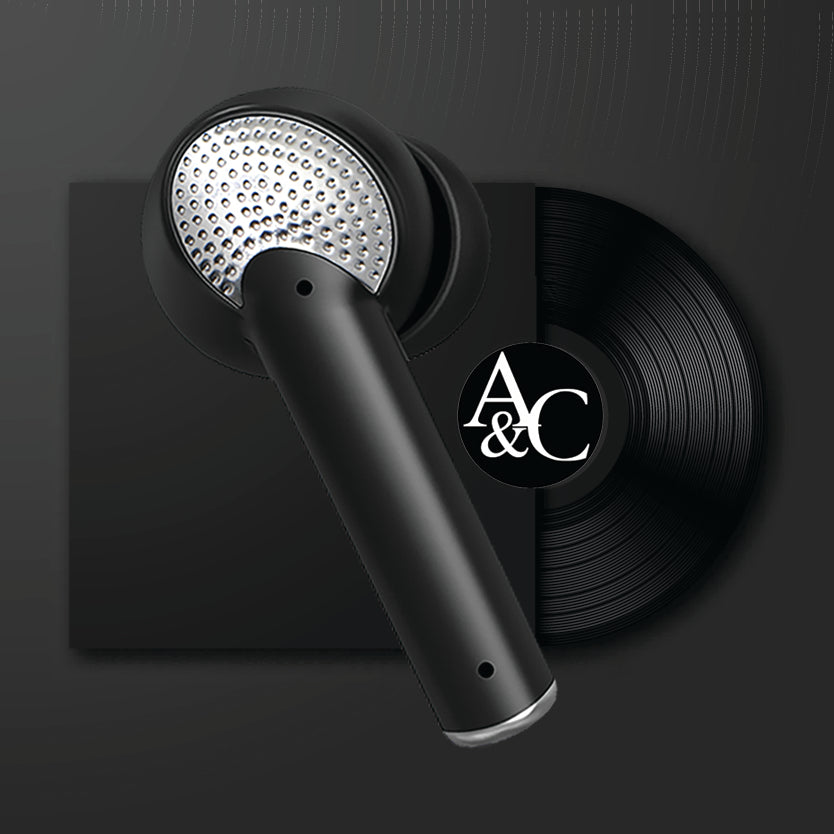 Angle & Curve: The Future Shape of Sound
Celebrating 10 years of headphone innovation Angle & Curve introduce the new benchmark in portable audio engineering; Carboncans Light packs 10 years headphone development into a modern but classic design - combined with our signature Vinyl X sound, all you need to do is release the music!
2 year Warranty

We stand by all our products on quality and offer a full repair and replacement within 2 years of purchase.

Free Shipping

All purchases in the UK qualify for free shipping. Shipping to the rest of the world including the US and Europe are charged at just £5. All shipments are recorded and trackable.